Welcome to 2B Security Systems
we deliver pan tilt surveillance systems worldwide
Custom made pan/tilt units and long range PTZ camera systems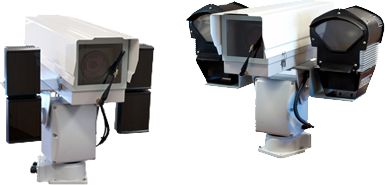 PTZ-6000 long range PTZ surveillance cameras
Very powerful long range PTZ cameras. The systems are made to your specifications and a wide range of options can be selected. The PTZ cameras are manufactured at 2B Security in Denmark.
Many features and functions can be selected: Auto focus, IR laser, IR LED, Fog filter, Wiper, heater, heat protection, washer unit and many other options.
More info: PTZ-6000 long range PTZ camera.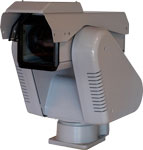 PTZ-4000 long / medium range PTZ surveillance cameras
Another custom made PTZ camera solution. The ptz cameras are made to your specifications and many options can be selected, Auto focus, Wiper, heater, heat protection, washer unit. The PTZ-4000 is a high accuracy and high speed PTZ camera. More info: PTZ-4000 long range PTZ camera.
Pan/tilt units with advanced features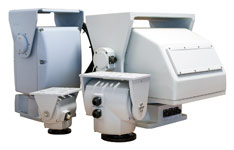 2B Security is the market leader in pan/tilt solutions. We can offer you a wide range of pan/tilt heads with advanced features like continuous rotation, built-in RS-485 / 422 serial interface, Pelco extended command protocol support, absolute position support, position feedback from pan/tilt, slow and high speed control for long range applications, high precision, variable speed control, Auxiliary control ….
Custom made pan/tilts can be designed for various different applications like Antenna control with high frequency slip rings. Applications where specific internal  wiring are needed and specific connectors are fitted to the pan/tilt. Custom made firmware can be made for a application specific function.
More info: Pan tilt units
The company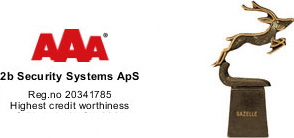 2B Security is a 20 years old company specialized in pan/tilt heads, zoom lenses, large camera housing and long range surveillance systems.
Our company has received credit rating AAA for many years and the very respected Gazelle award twice.
2B delivers high quality surveillance equipment world-wide and custom design camera systems for border control surveillance systems, Hot enviroment surveillance, Marine camera systems, Long range ptz cameras and many other demanding applications. 2B Security can deliver the systems as a complete solution or delivered as separate components. More info: About us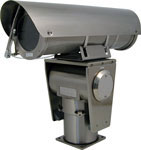 PTZ long range stainless steel surveillance cameras
Our popular stainless steel PTZ camera systems are all custom made at 2B Security in Denmark.
The typical stainless steel ptz cameras are very high-end with large motorized zoom lenses, heavy duty pan/tilt heads, large camera housings and equipped with wipers, washers and other equipment that meets the specifications of the long range surveillance application.
More info: Stainless steel PTZ cameras
Contact us for specials
If you do not find the needed equipment in our site then please e-mail your specifications so we can check if we can help you.