PT-3002 pan tilt "50 kg load"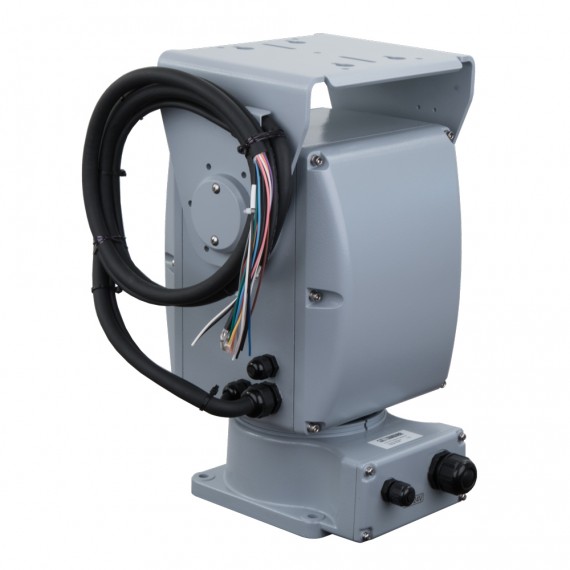 Load capacity up to 50 kg
RS-485 Pelco D serial control
Made of Aluminum with stainless fittings
Advanced positioning support
AUX, extender and motorized lens control
Description
The PT-3002 heavy duty pan/tilt is a large size pan tilt with a load capacity of up to 50 kg. Many advanced control features, absolute position, Pelco extended protocol, variable speed, presets, motorized lens and AUX control.  The pan tilt is made of aluminum and all fittings are made of stainless steel.
The pan tilt is designed with DC motors and worm gears, a combination to get a high load capacity and a strong hold capacity.
Many options are available and the pan tilt can be custom made to your specific application.
Specifications for PT-3002 Heavy duty pan/tilt head

Material
Aluminum
IP rating
IP66
Load capacity
Top mount 50 kg (side mount brackets optional)
Size (LxHxW)
281 x 423 x 244 mm
Weight
19 kg
Pan angle
0-345°
Tilt angle
-70° to +30° (-85 +85 optional)
Pan speed
1 – 40°/sec (preset speed selectable 50,40,35,25,15,6°/sec)
Tilt speed
1 – 10°/sec (preset speed selectable 20,10°/sec)
Absolute position support
 Yes
Electric position accuracy
 Pan 0,033° Tilt 0,0125
Mechanical lash
 <0,3°
Presets
100 presets
Preset accuracy
NA
Motor type
DC motor
Gear type
Worm gear
End-stop adjustable
Internally by mechanical end stops
Interface
 RS-485
Baud rate
2400, 4800, 9600, 19200 bps, N,8,1
Protocol
Pelco D
Address
1-256
Temperature range
-10°C  +60°C-(-25°C  +60°C with optional heater)
Voltage supply
 24 VDC
Power consumption
  Standby 0,2A, No load 0,6A, Max load 2A
 Motorized lens control
 Yes (4 wire lens control and presets voltages
 Aux control
 Yes (5 aux relays and 1 motorized extender control output)
 Video cable
 Yes (HDSDI cable optional)
 Network cable
 Optionally
Downloads
Price and product request form