OHS-1020 medium size camera housing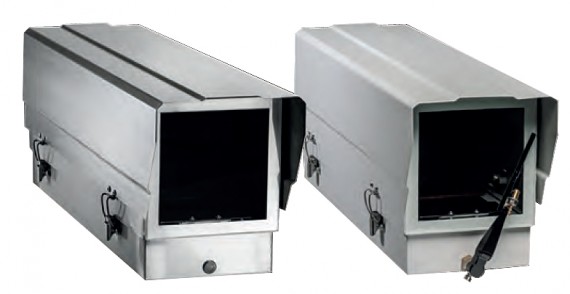 IP66 High quality camera housing.
Internal length 510mm
Made of Aluminum or stainless steel.
Water nozzle to connect washer system.
Options: Wiper, heater and fan
Description
The OHS-1020 outdoor camera housing is a medium sized camera housing. This housing is suitable for camera and a lens up to approx focal length 300mm. The housing is made of aluminum and the fittings are made in stainless steel. This outdoor housing is IP66 rated and therefore are highly suitable for outdoor environment.
Many options are available, double sunshield to avoid sun peak temperatures, wiper with self parking function, vandal glass, color/coating options.
Each housing are made to order and therefore the housing can be made to the customers specifications.
This outdoor camera housing is also available in a small size OHS-1010 and in a large size OHS-1030
In the OHS-1000 series the housings are also available as DSLR short version OHS-1025 DSLR
and a cooled version with fan cooled ventilated sunshield OHS-1025VS
To find a pan/tilt click here
Specifications for OHS-1020 outdoor camera housing

Material
Aluminum or stainless steel
IP rating
IP66
External Size HxWxL
230x180x600mm
Internal Size HxWxL
140x145x510mm
Weight Aluminum
3,5 kg
Weight Stainless steel
8,2 kg
Weight wiper (option)
0,5 kg
Window heater
30W PTC (self regulating)
Wiper (option)
Self parking
 Voltage (wiper, Heater)
 AC230V, AC24V, DC12V, DC24V
 Voltage (Fan)
 DC12V, DC24V
Cable entry
Two 20mm glands, one 25mm blinded hole
Color
Grey
Temperture
-25° +55°
Downloads
Price and product request form