HDT-3000 Heavy duty tripod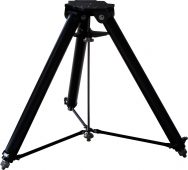 Heavy duty tripod for heavy load up to 150 Kg. Portable design and adjustable height. Feet brackets for ground mounting.
DOWNLOAD DATASHEET
Load capacity 150 Kg.
Aluminum
Weight 18 Kg.
Minimum height 1259mm
Maximum height 825mm
KB-1006 Pan/tilt keyboard with joystick and absolute position support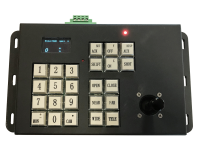 This KB-1006 PTZ keyboard with joystick support 64 speed steps resulting in a exact pan/tilt control from very slow to very fast. The keyboard support "absolute positioning" to read out the position in degrees "angle readout".
DOWNLOAD DATASHEET
Absolute position support
Realtime angle readout
64 pan/tilt speed steps
PTZ control
Preset support
KB-1001 telemetry transmitter keyboard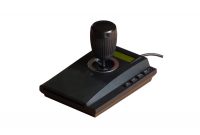 Simple keyboard with joystick to control PTZ solutions.
Download datasheet
Simple PTZ keyboard with joystick
Variable speed joystick
pan tilt and lens control
RS-485 Pelco D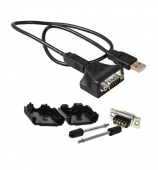 To control your pan tilt from a PC you can use a USB to RS-485/422 adaptor. Absolute position angle readout can be received in realtime by use of RS-422. By use of RS-485 the position can be received by sending a QUERY command.
USB to RS-485/422 adaptor
USB cable included
Screw terminals for easy test setup
Support both RS-485 and RS-422
Drivers included
BW2 camera housing washer series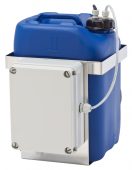 A series of washer units to spray water on the camera housing window while using the motorized wiper. The BW2 washer series is a range of different sizes and different lift height of the water spray up to 30 meter above ground. Options available.
Download datasheet
Camera washer system
Windshield washer fluid sprayer
5,10 or 25 liter water container
Lift height up to 30 meter.
Optional steel cabinet
DC-DC Converter 12VDC in / 24VDC out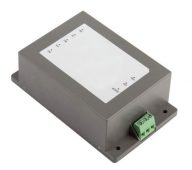 You can supply the 24VDC pan tilt with example 12VDC from a car battery by using this DC-DC converter. The converter transforms voltages from 9-36 VDC to 24VDC (2.5A)
Output 24VDC 2.5A
Input range 9-36VDC
Fully closed housing with mounting holes
-40 °C to +95 °C operating temperture
Remote on/off function