PT-2050 pan/tilt "50 kg load"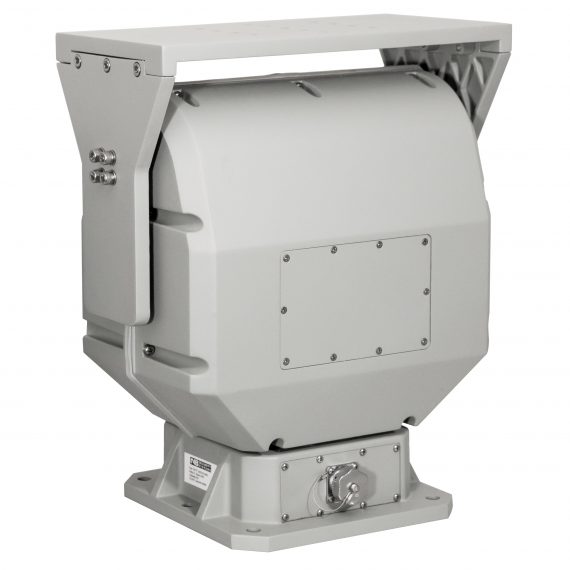 Load capacity up to 50 kg
RS-485/422 Pelco D serial control
With endstops or 360 endless rotation
Advanced positioning support - Angle readout
Optional GigE ethernet wiring, Motorized lens control, custom wiring
Description
The PT-2050 high load capacity pan/tilt is a large sized heavy duty pan/tilt unit with a load capacity of up to 50 kg. Many advanced control features, absolute position with angle set and angle readout, Pelco D extended protocol, 64 step variable speed and presets.
The pan/tilt is designed for heavy load and high precision <0,1°, with worm gears for self lock and wide range of speed steps.
The pan tilt units can be customized and custom wired to your application.
Specifications for PT-2050 pan/tilt

Material
Aluminum
IP rating
IP66
Load capacity
Top mount up to 50 kg (side mount brackets optional)
Size
D206 x W320 x H380 mm (See drawing)
Weight
23 kg
Pan angle
 0-340° with endstop (option: 0-360° or 360° continuous rotation)
Tilt angle
-45° to +45° (option: custom angles up to -90° to +90°)
Pan speed
0,01 – 12°/sec (64 step)
Tilt speed
0,01 – 8°/sec (64 step)
Absolute position support
 Yes (QUERY and SET commands for angle set and readout)
Self-test
No self-test as default. (Can be enabled by a command)
Mechanical lash
 <0,1°
Presets
100 presets
Preset accuracy
<0,1°
Position repeatability
<0,1°
Motor type
Step motor
Gear type
Worm gear
End-stop adjustable
No, endstops are set when manufactured.
Wiring
STx wiring or customized wiring (lens and aux control optional)
Interface
 RS-485/422
Baud rate
2400, 4800, 9600, 19200 bps, N,8,1
Protocol
Pelco D with extended commands
Address
1-256
Temperature range
-10°C +65°C (option: -25°C +65°C)
Voltage supply
 24 VDC
Power consumption
  Standby 0,07A, Max load 4A
Videos
This is a demo video of the PT-3002, but the PT-2050 are controlled in the exact same way:
Price and product request form