PTZ-6000 Long range PTZ camera system (Analog/HDSDI)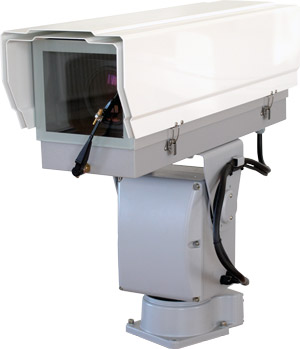 Long range PTZ camera (Analog / HDSDI)
Endless 360 degrees rotation and variable speed
Controlled by RS-485 Pelco D protocol
Self parking wiper with washer
Large lenses up 1000mm with motorized extender to 2000mm
Description
The PTZ-6000 long range surveillance camera solution is made to the customers specifications.
The system is made of high quality products:
Pan tilt:
The heavy duty pan tilt PT-3002 is a very stable and well proven unit.
The unit support variable speed, very slow to very high speed.
Absolute positioning is supported and therefore the PTZ system can be controlled very accurate by positioning the unit by commands in values.
Housing:
The very large IP66 camera enclosure made of aluminum with stainless fittings can be installed very large motorized zoom lenses up to 1000mm (2000mm with motorized extender).
Many options are available for the housing, double sun-shield, Active heater, Motorized wiper, ect.
Lens:
The PTZ-6000 surveillance camera system can be ordered with 60X zoom 12,5-750mm with motorized 2X extender (25-1500mm), X50 zoom 20-1000mm and 16,7-1000mm with motorized 2X extender 33,4-2000mm or other large motorized zoom lenses.
Camera:
The system is designed with analog or mega pixel HD-SDI camera.
We can make a 100% customized solution for specific pan tilt applications, see here
Long range PTZ camera specifications

Material
Aluminum
IP rating
IP66
Color
Gray/white
Mechanical Size (LxHxW)
761 x 670 x 250 mm
Weight
Approx 30 Kg (with lens and camera approx. 35 kg)
Pan max angle
0-345° (360° continuous optional)
Tilt max angle
Tilt -70/+30° (Tilt -85/+85° option)
Variable Pan speed
Pan 0.1°~ 40°/sec ±0.2° (variable speed)
Variable Tilt speed
Tilt 0.1°~ 10°/sec ±0.2° (variable speed)
Absolute positioning
 Yes
Electric precision
Pan: 0.033° and Tilt :0.0125°
Mechanical lash
 <0,3°
Presets
100 presets
Preset accuracy
NA
Motor type
DC motor
Gear type
Worm gear (auto brake)
End-stop adjustable
Mechanical end-stop internally
Interface
 RS-485
Baud rate
2400, 4800, 9600, 19200 bps, N,8,1
Protocol
Pelco D protocol
Address
1-256
Temperature range
-10°C  +60°C-(-25°C  +60°C with optional heater)
Voltage supply
 24 VDC
Power consumption
  NA
 Motorized lens control
 Yes
 Aux control
 Yes (5 aux relays and 1 motorized extender control output)
 Video cable
 Yes (HD-SDI cable optional)
 Network cable
 Optionally
Camera and lens specifications depends of the choosen camera and lens type, ask for details.
Price and product request form