OHS-1030 large camera housing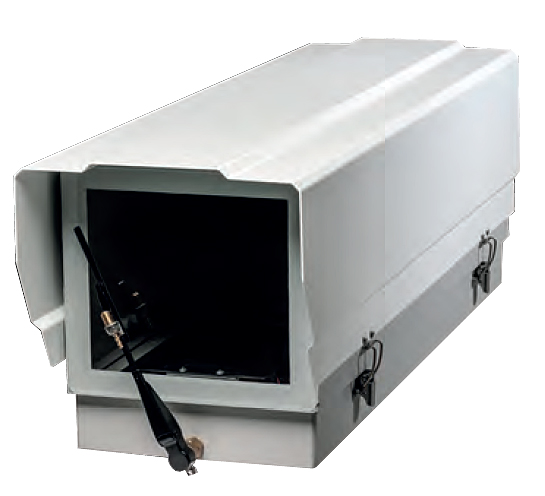 Very large camera housing.
Internal length 650mm
Easy service access
Water nozzle on wiper to spray window.
Many options available
Description
Large size camera housings applications for long range lenses, the large camera housing OHS-1030 suits up to approx 1000/2000mm lenses.
The camera housing is rated to IP66 International Protection Marking
The housing is made of aluminum, quality painted and fitted with stainless fittings.
Optionally the housing can be painted with a special coating for marine enviroment. Many options are available for the housing. motorized wiper, water sprayer/cleaner, internal heating regulated by thermostat, double sun-shield as extra protection against overheating in midday sun. 

The OHS-1000 series of housings are designed with a 5 cm high housing base that can be used to mount different kind of electronics below the camera and lens.
Typical equipment installed in the base are relay boards, heater, ventilator, thermostat, wiper controller, IP server, power connections …
To service the camera, lift the top of the housing, the base of the housing is mounted on the bracket or pan tilt for easy to service.
This very large housing are typically mounted on a pan/tilt for applications like coastal surveillance, outdoor broadcast solutions, border surveillance and other long range applications.
The OHS-1030 large camera housing are used in the PTZ-6000 solution made by 2B Security, see the PTZ solution here 
Wide range of pan/tilt units can be found here
Large camera housing OHS-1030

Material
Aluminum with stainless fittings
IP rating
IP66 enviromental rating
External Size HxWxL
259x232x760mm
Internal Size HxWxL
180x170x650mm
Housing Weight
6 kg
Weight wiper (option)
0,5 kg
Window heater
30W heater element below window
Wiper (option)
Self automatic parking
 Voltage (wiper, Heater)
 AC230V, AC24V, DC12V, DC24V
 Voltage (Fan)
 DC12V, DC24V
Cable entry
Two 20mm glands, one 25mm blinded hole
Color
Grey/white
Temperture
-25° +55°
Downloads
Price and product request form